Improving Your Website Conversion Funnel
Four Easy Steps Help You Identify What Needs Improving & Why
According to reports, one in every seven A/B tests fails, but this number decreases to a significant extent when testing is done by experienced conversion rate optimizers. Why? They spend time in the research phase. 
Experienced optimizers fare better because their focus is in the right place. They put in the effort to understand the specifics of the points of friction and take action based on hard research. 
Conversion research is the activity that helps you get actionable insights into how you can improve your website. As a result, you'll be able to test out different variations of your web or digital property based on hypotheses from your learnings. 
That research phase is critical to helping to improve your website conversion funnel. There are four actionable steps you can take to make it work for you. In this blog, we'll break down each step for you.  
Step 1: Get familiar with your analytics
Conversion research begins with closely monitoring your website performance in terms of quantitative data that you have through your analytics tools. This enables you to track key visitor journeys for drop-offs and identify the areas that need improvement.
It goes without saying that the very first step you need to take is to get familiar with your analytics. Chances are you would be using one or the other of the most popular ones out there (think Google Analytics). Getting a grasp of your analytics will allow you to be able to identify where you are losing traffic, visitors, users, and so on.
🚀Here are a few resources that can help you get familiar with Google Analytics: 
Step 2: Monitor key visitor journeys on your website
Once you've gained a thorough understanding of how your website analytics is structured and works, you can start tracking key metrics and visitor journeys for your business. 
The question you want to be able to answer is this: What are people doing on your website? With your analytics data, you can zero in on pages that are leaking visitors. See our example below.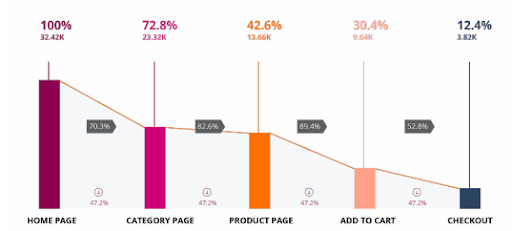 🚀After looking at the example, two of the most obvious questions that you'd want to ask are 1) what's the exit rate on each of the pages in this conversion funnel, and 2) is the bounce rate on the home page too high? Finding the answers to such questions about your own website can help you identify where you need to focus your optimization efforts.
Step 3: Understand why users do what they do
While steps 1 and 2 will tell you where the problem is on your website in terms of conversion chokeholds, you need to also know what the problem is. What's causing people to abandon your website? What are they trying to achieve? This is where visitor behavior analysis comes in.
Visitor behavior analysis is a method of conducting qualitative research on visitors' website behavior. It involves employing tools (like heatmaps, visitor recordings, scroll maps, and more) to understand website visitors' on-site behavior, identify experience breakages, gather feedback and then utilize all the insights to optimize your digital property.
Here's an example: web analytics can tell you that visitors are exiting your product page at an alarmingly high rate. Visitor recordings (a type of visitor behavior analysis tool) go a step further to show recorded sessions which help you visualize where users spend most of the time on the page, areas they get stuck on, what they can't seem to locate, and so on. 
🚀What tools can you use for qualitative research? The following snapshot from HubSpot and VWO covers the most popular visitor behavior analysis tools you can consider using for your business.
Step 4: Jot down all your observations – religiously
Observations are simply factual statements about what you can glean from your quantitative and qualitative research. Note that observations are different from hypotheses. Hypotheses are ideas you believe could improve your website while observations are a step just before that. 
🚀Here is what an observer would look like: the add-on pop-up on the checkout page is distracting users. This statement tells you nothing about how you could improve the issue, but only that it exists. Hypotheses are built out from observations, otherwise, there's a chance we'd be creating them based on intuition alone. That is the key to differentiation when it comes to winning vs losing tests. 
There you have it: four easy-to-follow steps that will help you improve your website conversion funnel. There's no better time than now to get started because experimentation is no longer an "afterthought" used to validate ideas. It's a lever marketers can't do without if they want their brands to remain relevant in the red-hot world of digital marketing. To put it bluntly, when the bottom line is on the line, you need to be data-driven, analytical, and customer-obsessed. 
Today's customers demand a brand experience that's contextual, relevant, and personalized. The companies redefining brand experience are those that have embraced risk, innovation, and experimentation. It's become the new playbook for growth. And it's easier than you think. In our latest white paper, "The Case For Experimentation: The What, Why & How", we'll take you step-by-step through the entire process.