Creating adventure on tap
With British Columbia having over 170 craft breweries at the end of 2018, Camp Beer Co. approached blue Meta to create a unique brand that would allow them to stand out from the crowd. This included building a strong brand strategy and artwork that could be applied to a variety of mediums as well as a website and promotional strategy, including digital.
About Camp Beer Co.
Camp Beer Co. is a locally owned, community-based craft brewery and tasting room. Opening their doors in late 2019, Camp boasts a relaxed, casual atmosphere and is the perfect meeting place in the Fraser Valley. Patrons can taste a variety of beers on site, most of which are lower in alcohol and high in flavour, with the option of bringing them home to enjoy as well. Camp's motto, that beer is better outside, is reflected in both the interior and exterior design of the business.
1. Challenge
Camp Beer Co.'s challenges and objectives.
While Camp Beer Co. had the concept for how they wanted to uniquely approach the market and a general idea for a logo, they required support formalizing it into a brand that would appeal to potential customers in an already crowded BC craft beer market. They needed a partner who could understand what look and feel they were trying to achieve and translate that into a brand that was strategic and scalable.
"Our biggest challenge was how to create noise and be noticed in the market. We needed to be able to translate our ideas into an identity that our customers would fall in love with, and allow us to be seen and heard" said Kevin Larsen, owner of Camp Beer Co.
2. Strategy
How Blue Meta supported Camp Beer Co.'s marketing efforts.
Following a discovery meeting with Camp Beer Co., Blue Meta recommended the following: Brand Strategy, Logo, Packaging design and Artwork, Promotional Strategy, Website, and Digital Strategy, as well as a plan to engage early promoters. Since the Camp Beer Co. brand would be prominently displayed across multiple mediums, consistency within the brand and its application would be essential.
Following extensive research into the craft beer industry, including a thorough analysis of the competitive landscape and potential target market, Blue Meta began work on creating a strong visual language along with a brand personality that would be fun and approachable. This was built into a Brand Guidelines Package, which included all of Camp Beer Co.'s creative assets, including packaging, building and way-finding signage, original designs as well as messaging and tone of voice that should be employed across all communications.
Blue Meta then built a website for Camp Beer Co. along with a digital strategy that would direct customers to the site to learn more about not only the brewery and its products, but also about their values as a company and how to join their "Original Campers Club", which offers members exclusive access to a number of items.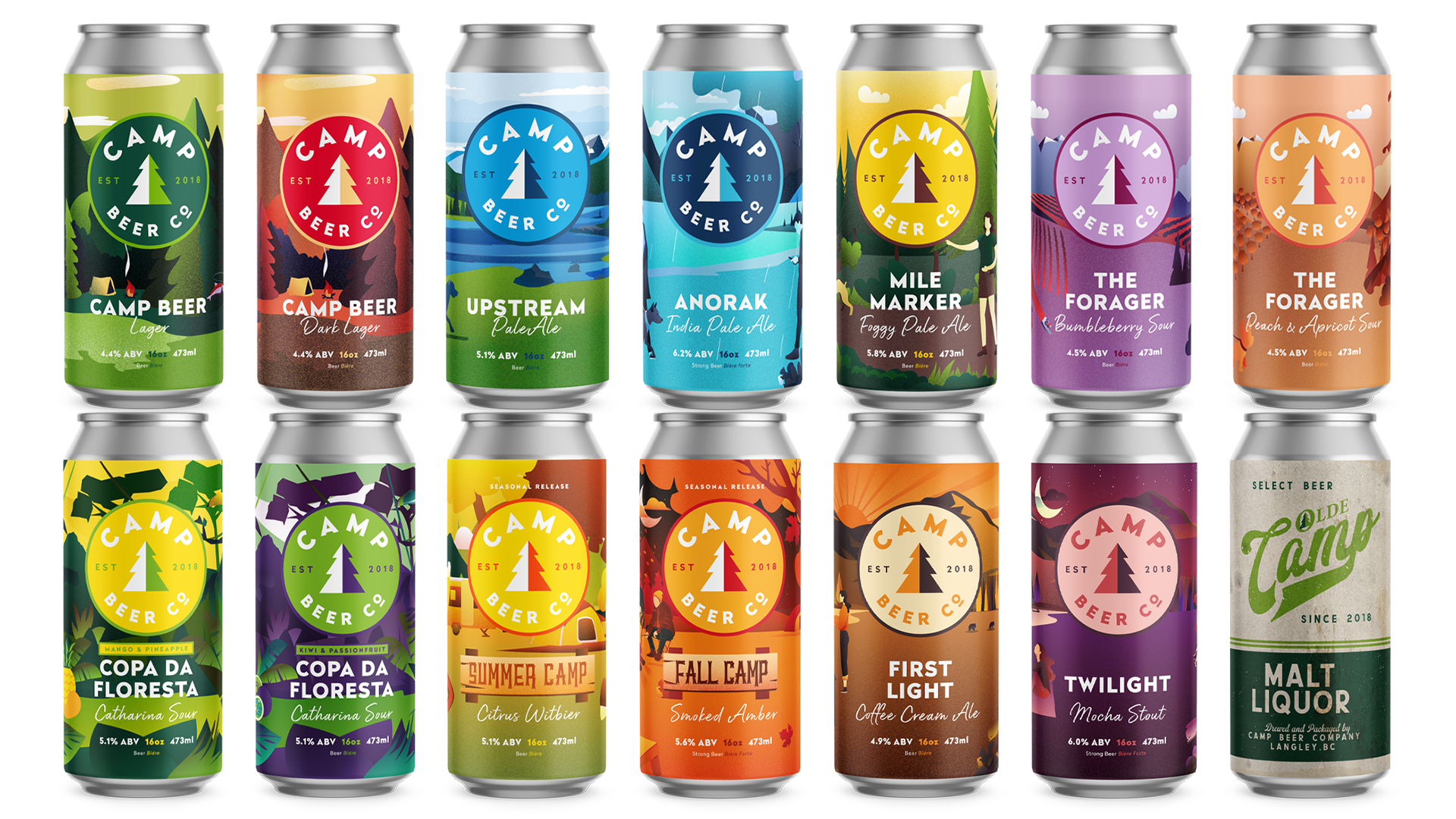 3. Results
Camp Beer Co. continues to engage with Blue Meta.
Today, Blue Meta continues to work closely with Camp Beer Co. on its growing list of branded material requirements in addition to managing its ongoing digital promotional strategy. With sensational sales results to date, Blue Meta looks forward to providing ongoing Marketing support to Camp Beer Co. while also enjoying their product!
"We value our partnership with Blue Meta and all they have done to help us build and launch our new brand. From the beginning, they have listened to us and made our concept into something tangible that we could market across all mediums, with highly successful results. We look forward to continuing to work with Blue Meta as we grow our product offerings in the future", said Kevin Larsen.