Brand Foundations, Fan Bases and a Pandemic Pivot
British Columbia currently has approximately 190 craft breweries. It's a competitive market that appeals to a specific demographic. It goes without saying that standing out on the shelves is just one of many challenges facing anyone new that's entering the market. Building and launching a brand is equally, if not even more, daunting. 
But what happens when a global pandemic forces your doors to close when you've just barely launched? Just as customers were getting to know you and become familiar with your products? What are your options? 
The Blue Meta team was ready to lend our support and we couldn't wait to swing into action.
About Camp Beer Co.
Camp Beer Co. is a locally owned, community-based craft brewery and tasting room. Opening their doors in late 2019, Camp boasts a relaxed, casual atmosphere and is the perfect meeting place in the Fraser Valley. Patrons can taste a variety of beers on site, most of which are lower in alcohol and high in flavour, with the option of bringing them home to enjoy as well. Camp's motto, that beer is better outside, is reflected in both the interior and exterior design of the business.
1. Challenges
Camp Beer Co. initially approached Blue Meta to create a unique brand, one that would elevate them above other brands in the tightly-packed and already-crowded craft beer market. 
At the same time, since the Camp Beer Co. brand would be prominently displayed across multiple mediums, we knew consistency with the brand and those applications would be critical to ensuring brand integrity.
Other challenges were also identified: no one knew the brand or the location of the new brewery. How could we get our message out there? What methods could we use to build a social audience of loyal followers in a very short amount of time? 
And when Covid-19 health restrictions forced many in the hospitality industry to reduce operations, could the new company pivot while still staying viable?
2. Strategy
A discovery meeting with the client was set up. This gave us the opportunity to dive deeper into their business while getting additional insights into their background, vision, values and objectives.
Following extensive research into the craft beer industry, including a thorough analysis of the competitive landscape and potential target market, we recommended the following: brand strategy, logo, packaging design and artwork that could be applied across multiple mediums, promotional strategy, website and digital strategy, as well as a plan to engage early promoters. 
The brand strategy also encompassed the social strategy, since we planned to establish, then grow, our audience by speaking about the nostalgic nature of camping – a big part of Canadian culture – as well as the sense of freedom and adventure that one derives from being in the great outdoors. 
Our packaging strategy was focused on brand awareness and impact on-shelf. We recommended a large logo presence on the front of the can, using vibrant and unique colour combinations for easy recognition of style and brand. This was then backed up with a distinctive illustration style that complemented both the name and colour palette.
Blue Meta's digital and social strategy targeted the millennial beer drinker with expendable money. Our intent was to create a sense of FOMO (Fear Of Missing Out) through social media that was balanced off by the use of strong messaging.
3. Execution
One of the first activities we undertook was the creation of a strong visual language along with a brand personality that was fun and approachable. This was built into a Brand Guidelines package, which included all of Camp Beer Co.'s creative assets, including packaging, building and way-finding signage, original designs as well as messaging and tone of voice that were to be employed across all communications.
Throughout the entire process, we consulted closely with the client, ensuring that all pieces aligned strategically and were completely scalable.
The next phase included the building of a Camp Beer Co. website. Through the digital strategy, customers were directed to the site to learn more about not just the brewery and its products, but also about the company's values and how to join their "Original Campers Club". This loyalty program offered members exclusive access to news, promotions and updates, including new product launches. It also helped build anticipation and increased brand awareness. 
Blue Meta's digital launch strategy phase for the brand as well as the opening of the taprooms included tactical social media and advertising. The client was so impressed with the results that we were given full control of the content planning and execution on their social media platforms, which is still in place today. 
Like many in the hospitality industry, the arrival of Covid-19 forced Camp Beer Co. to reassess their situation. The business opted to pivot and moved into packaged beer. The tactical execution of this phase, under compressed timelines, was done so well that the range of both canned and bottled beer virtually exploded and, today, remains a core part of Camp Beer Co.'s business.
Services:
Logo, branding and brand guidelines

Website build

Digital ad campaigns (Original Campers Club)

Packaging (cans, bottles)

Environmental consultation & execution

Event material (festivals – tents, tables etc)

Photography & video direction

Social channels (Instagram, Facebook)

Mailchimp setup & campaigns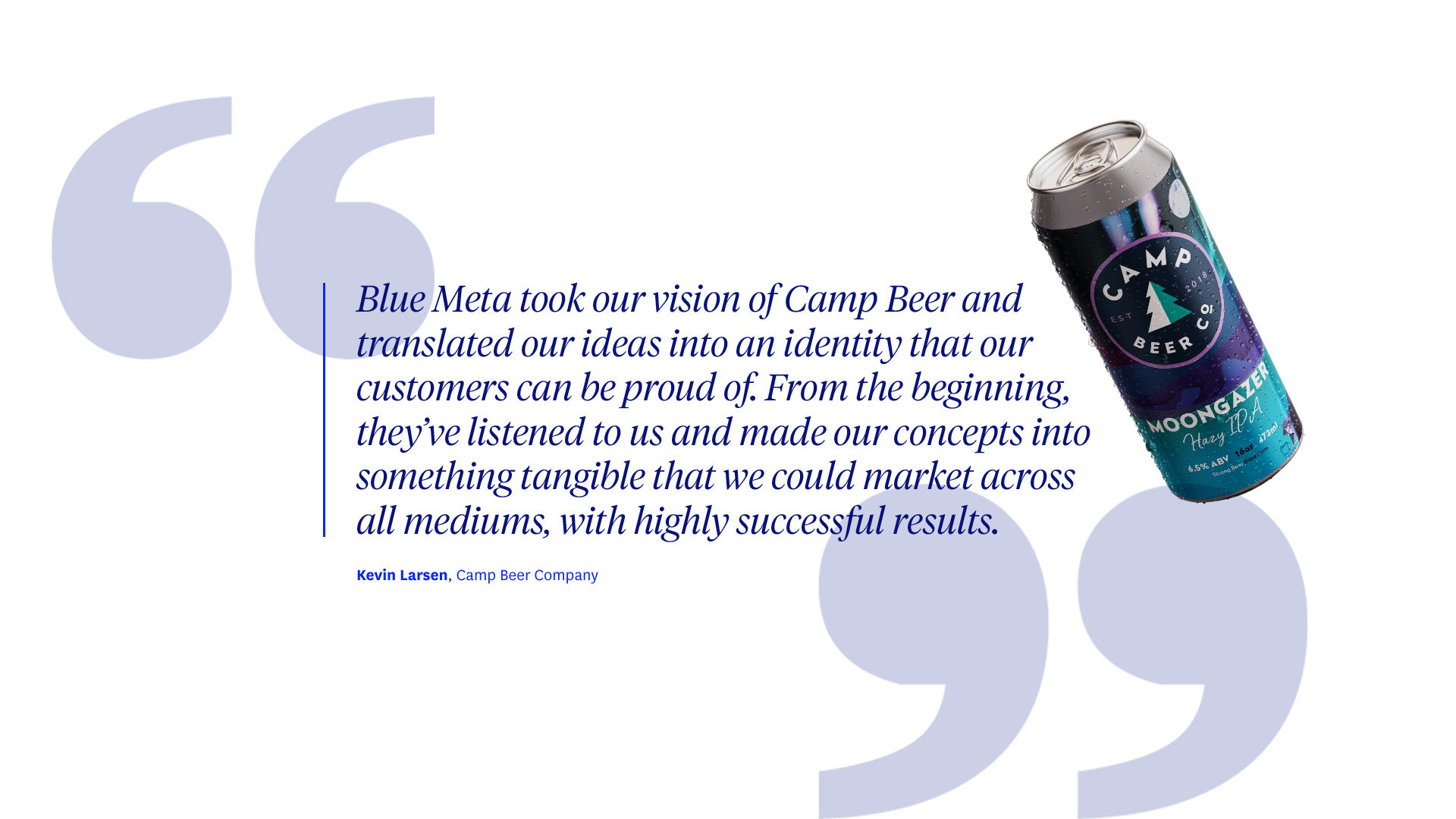 4. Results
Exceptional brand execution, strong social media growth and dominant packaging on-shelf established Camp Beer Co. as a major player in BC's craft beer market. 
As a result of Blue Meta's strategic involvement, Camp Beer Co. saw a 500 percent increase in social media engagement (likes, shares, views). Their email sign ups increased as well, with a 60 percent increase in engaged audiences and a whopping 1500 percent increase since opening. 
Blue Meta continues to work closely with Camp Beer Co. on its growing list of branded material requirements in addition to managing its ongoing digital promotional strategy. 
With sensational sales results to date, Blue Meta looks forward to providing ongoing marketing support to Camp Beer Co. (While also thoroughly enjoying their products!)
Additional Metrics That Increased
ROI 

CAC

Revenue 

Sales 

New Business

Direct Inquiries