Sophisticated Creative Key To Brand Recognition & Customer Conversions
Getting Outstanding Results For An HR Outsourcing Company
Peninsula needed help launching a comprehensive national campaign focused on key industry targets to build awareness and drive actionable leads.
About Peninsula
Peninsula is an award-winning HR consulting and health and safety outsourcing company. They are renowned not only for the full slate of products and services they provide but also for their 24/7 advice and support. 
Offering everything from HR outsourcing and OHS compliance to  contracts, legal assistance and online softline, Peninsula is a trusted partner to over 4500 Canadian businesses.
1. Challenge
Peninsula had previously engaged other agencies to help with their marketing efforts but were disappointed in the results. There was little success in generating brand recall among small business owners across social channels and it was costing too much. As a result, they were missing sales targets.
Peninsula approached Blue Meta to help establish their brand as the leading HR solutions provider in the minds of small and medium business owners across Canada.
2. Strategy
The team at Blue Meta set out to build a campaign that would capture the attention of key decision makers within the defined audience. Following a deep dive into target audience research, we were able to show how much more complex and comprehensive this sector was. 
A market research plan showed that our available target market of micro-businesses was significantly extensive in scope and geographically situated across the country. 

Adding to this were the operational challenges many micro-businesses were facing during the Covid-19 pandemic. 
This became an essential component that redefined our understanding of the various HR issues and marketing opportunities that existed within that audience.
3. Execution
A digital strategy brought a fresh creative solution to the Peninsula brand by reviewing the existing customer data as well as how that data was structured. We also looked at the customer buying journey by target industry and crafting new messaging and creative solutions for individual personas. 
From there, a combination of cold and warm audience targeting and remarketing campaigns were launched across social, search and programmatic platforms. 
Each digital marketing campaign was unique in that it incorporated specific creative and messaging variations that were implemented to gain critical insights and data into what approaches were deemed to be the most effective. 

Once that was determined, these approaches were prioritized, refined and replicated across other platforms.
Throughout the ongoing campaigns, we are in constant communication with the Peninsula team. This consultative approach allowed for ongoing collaboration, strategic recommendations and informed decision-making. Ensuring responsive, connected teams meant our digital marketers could refine and focus the campaigns to maximize returns and achieve solid results. 
Services:
Digital strategy focused on buying journeys and customer experience

Fresh monthly creative ideation and ad design as a result of A/B testing and data insights

Comprehensive omnichannel media plan covering social, programmatic and search channels (mobile, desktop, tablet, TV)

Approximate media spend: $50-$80k per month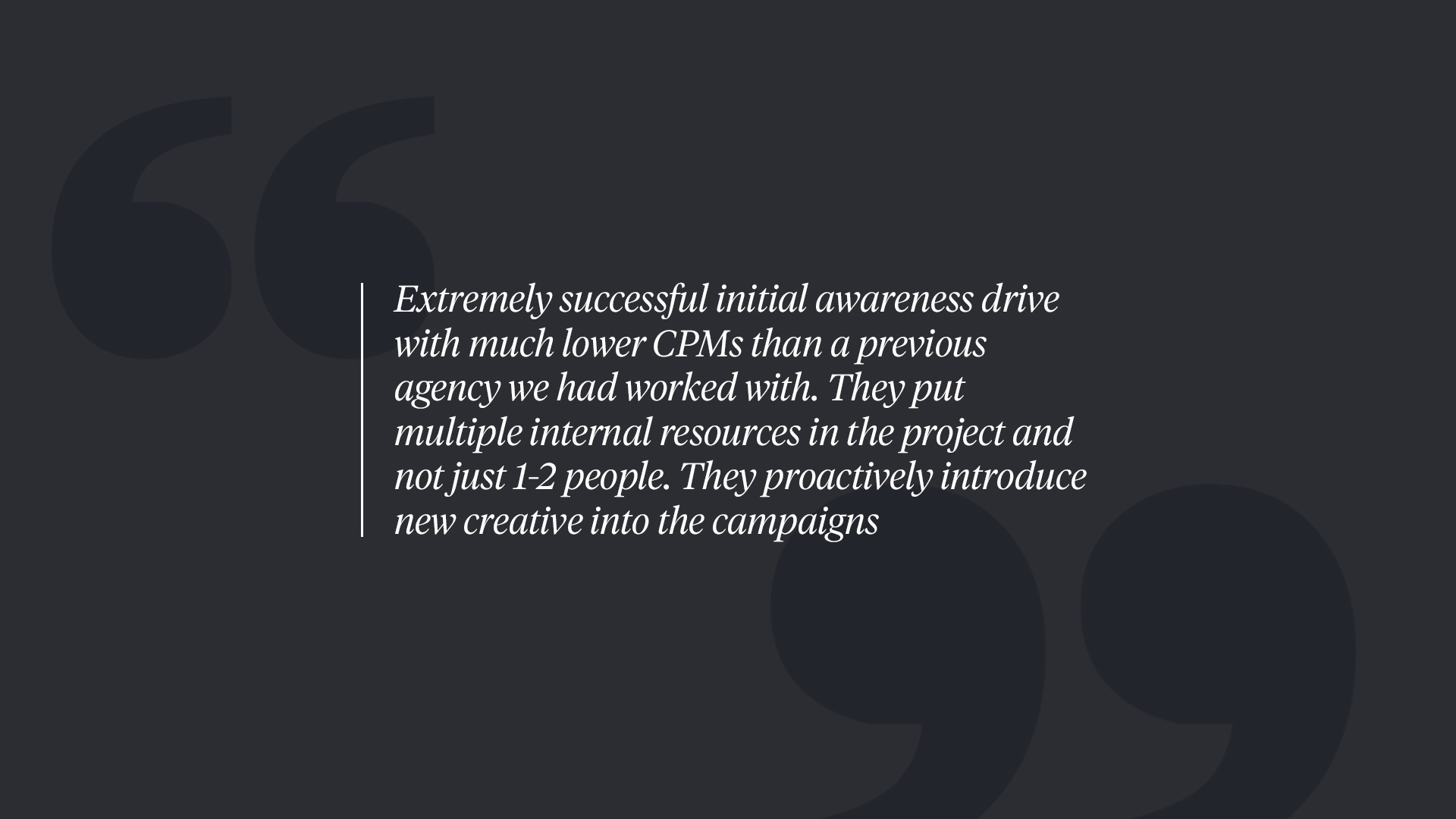 4. Results
In the early stages of the campaign, our team found that cold audiences were not converting as quickly as planned. Through the data that we collected, key learnings were brought forward and the team was able to respond accordingly, fine tuning and adjusting the various aspects of the campaign where needed.
By adjusting allocation, we successfully targeted a specific ad set that effectively increased traffic and engagement, which achieved even more conversions for the client. Based on these results, we recommended that they move ahead with an increased media spend to target cold audiences that could be cultivated and pushed to conversion. 
Combining our knowledge with the data we were receiving resulted in the elevation of the customer discovery and buying journey which, in turn, increased sales. 
Blue Meta's creative team produced a three-minute video that was used to target viewers who watched 75% or more. The video did double duty as a strong lead qualifier as well, achieving actionable leads for the client.
Results measured/tracked: